Your Weekend Shopping Headquarters and a Full Day of Family Fun!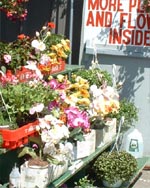 We are open every weekend – rain or shine. With free admission and ample free parking, we make it easy for you to get everything on your shopping list in one great location.
Pick up one of our Building Directories at the office, click here to contact us and we will send you one, or click here for a building directory. If you still can't find what you're looking for ask our friendly office staff – they can assist you!
Many of our indoor vendors accept major credit cards and we also have 3 ATMs one located at the food court on 42nd Street by the Red Building food court, a second located outside the restrooms at the Mainbrook Tavern, and 3rd near main office. What are you waiting for? Get on down here and shop 'til you drop! Click here for directions.
HELPFUL TIPS FOR SHOPPERS
Arrive early to be sure you find the best parking space.  When choosing a parking location, bear in mind how often you plan to bring items back to your car.   Bring a tote, backpack or other equipment to carry your purchases. Wagons or carts are often used for hauling.
If you plan to return to a particular vendor, be sure to note the name of the street and the booth number.
Since we are open rain or shine, be prepared for a change in the weather. Dress appropriately in layers. Don't forget comfortable shoes and sunscreen, Take time to rest and replenish fluids.
Brush up on your negotiation skills. Most dealers expect you to bargain. If you feel uncomfortable about this, just ask "what would your best price be on this item?".
The following may come in handy; notebook, sunscreen, sun/rain hat, fanny pack, and a plastic poncho.
Looking for something in particular? Ask the main office who carries similar items. Chances are, we will have great recommendations.
We have it all  –  from A  to  Z!
Apples, Antiques, Apparel, Action Figures, Albums
Baseball Gloves, Beer, Bargains, Books, Bicycles
Cut Flowers, Coats, CD's, Comforters, Cutlery, Cats
Dresses, Dogs, Diamonds, Dishes, Dahlias, Doormats
Earrings, Eggs, Electronics, Essential Oils, Entertainment
Funnel Cakes, Fabric, Fashion Accessories, Fur
Garage Sales, Garden Supplies, Games, Gee-Gaws
Health and Beauty Supplies, Hammers, Head Gear
Infant Toys, Ice Packs, Imports, Iris, Index Cards
Jewelry Repair, Jade, Jars of Jam, Jute Rugs, Jax
Kites, Kittens, Knish, Kosher Hotdogs, Knitwear
Lamps, Lemonade, Lollipops, Lens Caps, Locks
Musical Instruments, Muslin, Mustard, Mail Boxes
Necklaces, Neck Braces, Neck Ties, Navel Oranges
Outerwear, Office Supplies, Oil Paintings, Okra, Olives
Puppies, Plants, Pet Supplies, Pomegranates, Pot Pourri
Quarts of Oil, Quilts, Q-Tips, Quiz Books, Quinine Water
Rakes, Repellent, Rings, Rulers, Rotisserie Chicken
Sneakers, Socks, Sunglasses, Saw Horses, Stationary
Tailoring, Toys, Table-wear, Towels, Trees, Telephones
Underwear, Umbrellas, Ukulele, Uniforms, Unguents
Vacuum Repair, Varnish, Vegetables, Vanilla Shakes
Watches, Window Treatments, Wrought Iron, Wreathes
Xylophones, X-mas Gifts, X-men Comic Books
Yo Yo's, Yogurt, Yarn, Yard Sales, Yards of Fabric
Zippers, Zucchini, and a Zillion more things!