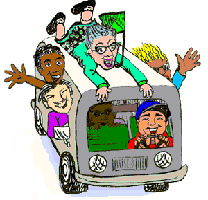 Englishtown welcomes thousands of bus tour groups every year. We want to make your trip as enjoyable as possible, so please contact us with any questions when planning your excursion. We will send your group discount shopping coupons, brochures and a building directory to help pinpoint your shopping needs. We can even assist you in finding a charter bus company in your area.
Bus Group Reservations
Please call the office to make a reservation at (732) 446-6431. We will be glad to assist you and help you plan your trip. Click here for office hours.
DROP-OFF and PICK-UP
A bus depot is located in front of the tavern for convenient pick-up and drop-off of charter groups. An office representative will be glad to assist your charter bus group with information and reservations.
Group Leader Trip Tips
Planning a bus trip has never been so easy – and what better way to shop than with friends and family! Here are some tips that will make your trip more enjoyable:
Reserve a bus in advance (For charter bus information call us at (732) 446-6431 or fax us at (732) 446-1220 and we will direct you to a bus company that charters buses to Englishtown)
Pre-register with us and we will send you:
Group leader & bus driver incentives
Group tour packages which include: discount shopping coupons, brochures and building directories to help plan your shopping trip in advance.
Information on nearby restaurants and overnight accommodations.
When you arrive, schedule a meeting time and place for your bus to meet at the end of the day.
Find out if your bus has video capabilities and bring several movies to watch along the way.
Group Leaders' & Bus Drivers Incentives
Stop by the office for your free gift!
Click here for more details
Nearby Facilities